If you are not able to make it to my practice, I can also come to your house on request. I am just one call away.
In addition to the regular services of a family doctor I can also offer you at least one of the following services.
In addition to my work at the practice I am working for the Berlin on-call service. If you give me a call out of hours I will directly come to your home.
ECG
Examination of the electrical activity of the heart.
Stress ECG
The ECG examination during a standardized procedure of physical stress on the bicycle ergometer.
Ultrasound Examination
Examination of the inner organs through modern ultrasound technology.
Lab Screening
Examination of all sorts of parameters of the blood. I work with Berlin based Labor 28.
Lung Function Test
Indicates if any diseases affect the lungs and in which way, for example asthma, COPD etc
Anti Wrinkle Treatment
Nowadays wrinkles can be effectively treated using hyaluronic acid. Contact me anytime if you have further questions.
About Dr. Matthias Keilich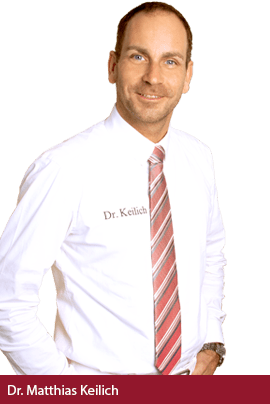 Time after time I realize that the saying "A healthy mind in a healthy body" is more than just a phrase. A healthy body is the basis for our mental wellbeing. The same principle is valid the other way around. Only when you are happy with yourself, can you be healthy. Despite the possibilities of modern medicine I realize over and over again that the patient's expectations are crucial to the success of a medical treatment. Often simply a conversation and being listened to help much more than any treatment.
A big part of my job is listening to my patients, and I love that! I understand from patients that a trusting dialogue is much more helpful than plain technicalities. This happens especially during the on-call service. In this case possibilities for diagnostics are often limited and the sole fact that a doctor comes to see the patient provides remedy.
Because I am passionate about it, I obtained specializations within different fields of modern medicine. I can offer ultra sound screening, diet coaching and travel medicine counseling, but you can also just come to talk to me. For whatever reason you come to see me, I will be there for you and listen to what you have to say.
| | |
| --- | --- |
| Mon., Fri. | after appointment by phone |